Ormsbee Trail Closing  | E Bikes Policy
Dear East MontpelierTrail Volunteers –
We are planning a trail work day
Saturday September 25, 9:00AM
to further develop our future Sparrow North trail segment.  We accomplished a lot on National Trails Day, but there is much more work to do.  Come on out and be part of the next step in expanding our beautiful trail network.  Meeting location will be at the base of the nearest driveway opposite the Sparrow Farm Trail where it intersects Sparrow Farm Road.
Please RSVP if you are interested in helping out. Dave's Email – dhwebb67@gmail.com
Work will include significant brush and some tree clearing, trail raking, and some invasive barberry removal.
Tools Needed:  Chainsaws, branch loppers, clippers, hard rakes, rogue hoes, shovels, gloves, and large, thick trash bags for barberry removal.
Hope to see you there and thanks for your interest in the Trails.
-Dave Webb
EMTI Volunteer Coordinator
---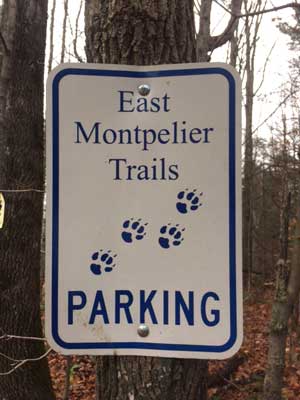 East Montpelier Trails, Inc. (EMTI) is a non-profit volunteer organization working to responsibly build and maintain a local network of trails in East Montpelier, Vermont.
EMTI was established with the mission of working with willing landowners to create and maintain a permanent network of multi-use trails on private and protected lands in East Montpelier.
Our goal is to provide healthy recreational opportunities while connecting the community and it's schools and neighborhoods. We currently have 15 miles of marked trails  and 11 trailheads with information signs at the parking areas.
Find out more about volunteering:  How to become more involved with EM Trail Projects
---