LASTEST INFO:
Covid 19 – Please honor the 6 foot separation rule when passing others on the trail, and COVER COUGHS AND SNEEZES.
The Mallory Brook Bridge is sadly a thing of the past, and crossing is only possible during low water flow by "fording" or "rock-hopping". We have marked a new section of trail, which takes you to a better location for this. There may be times when it is not possible to cross. Regular trail users of this trail will agree that the Mallory Brook stream flow responds quickly and dramatically to heavy or sustained rain events. 
---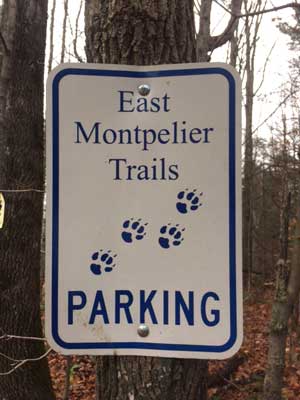 East Montpelier Trails, Inc. (EMTI) is a non-profit volunteer organization working to responsibly build and maintain a local network of trails in East Montpelier, Vermont.
EMTI was established with the mission of working with willing landowners to create and maintain a permanent network of multi-use trails on private and protected lands in East Montpelier.
Our goal is to provide healthy recreational opportunities while connecting the community and it's schools and neighborhoods. We currently have 15 miles of marked trails  and 11 trailheads with information signs at the parking areas.
Find out more about volunteering:  How to become more involved with EM Trail Projects
---