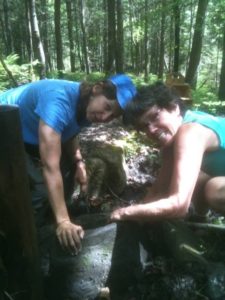 East Montpelier Trails Inc. maintains a list of volunteers that have indicated a desire to help with trail projects.
EMTI always plans for a work day on National Trails Day, the first Saturday in June, and additional work days are scheduled at different times throughout the year as needed.
Trail projects include a wide variety of activities: trail building, trail repair, hanging signage, clearing of overgrowth/downed trees, improving drainage, plantings to control erosion, etc.. There is something to do for all ages and skill levels.
We often have more work to do than volunteers to do it. If you would like get more involved as a trail volunteer, please contact Dave Webb, our volunteer coordinator at:
dhwebb67@gmail.com   OR   802-279-2198
---
Donate
We are always happy to get financial support, which adds to our resources for  planning, repair and new projects.
We are a 501c-3 organization so your donation is tax deductible.
You can send  a check to:
East Montpelier Trails
c/o Richard Brock
234 Cutler Heights Road
Montpelier VT 05602
Thanks for your interest in East Montpelier Trails!