New Sparrow Farm Trail Boardwalk – 2016
This project was spearheaded by the Montpelier Area Mountain Bike Association.











---
Bridge over wetland on Clark Trail to U-32 – 2015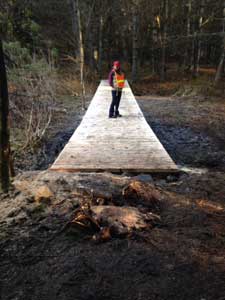 Participants in this  include Timber and Stone LLC, U32 Cross Country and Ski teams. Trail clearing was done by  Henry,  and the Eagle Scout project.
---
Mallory Brook Trail Flood Repair and Trail Improvement  – 2013
East Montpelier Trail Users and Supporters: Mallory Brook Trail Fundraising Challenge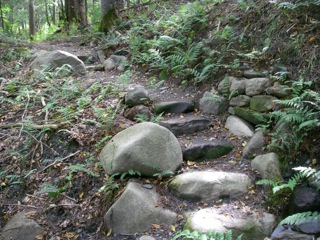 We launched a fundraising campaign to improve the beautiful Mallory Brook Trail between Johnson Rd and Cherry Tree Hill Road. We are happy to report that we have received almost $2000 towards our goal of raising $4000 from the community. We are half way there!
Trail builder extraordinaire Greg Western worked through the fall of 2012 to repair rock stair stream crossings damaged damaged during the flood of May 2011, and make them resilient for any future flooding, as well as to improve other troubling wet spots. He will begin the final phase of repairing the stream gullies in June of this year. Please stop by and check out his amazing stone and wood handwork while you enjoy a walk on this unique trail, or sign up for a volunteer work day.
And of course, your generous donation will be greatly appreciated. We still have $2000 left to raise! If you've ever been grateful to have these fine and varied trails right in our community, this is a great chance to join the effort.
In addition, volunteers are welcome to help on the trail. Send your email address to Dave at dhwebb67@comcast.netand we will let you know when we have work dates. Greg Western is a trail genius and you will learn a lot.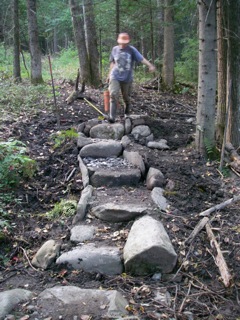 Donate: any amount you can give is appreciated. We will acknowledge all donors unless you state that you wish to remain anonymous. Please send checks to East Montpelier Trails at: EMTI c/o Richard Brock 234 Cutler Heights Montpelier, VT 05602

Kind donations from our community and from trail users in surrounding communities bring our total to $3205!! We are closing in on our goal of $4000. If you wish to help you can still contribute by making a donation or by helping out on the trail.
Our sincere thanks to these generous folks: Ann T. Stone, Stephanie Farrior and Jeff Schumann, Ken Herz and Catherine Rader, Naomi Almeleh, Sarah Hofmann, Stephen Gould, and Elaine Manghi. 
Previous donors include: Anna Saxman and Rob Halpert, Kathy and Brian Hollen, Susan Atwood Stone and Chip Stone, Richard and Sarah Brock, Madeline Mongeon, Kathy Hickman, Edith and Martin Miller, Kari Little and Annie E Casey Foundation, Brian Tokar, Richard Raubertas, and "Charley" in honor of Mark Stephen's birthday!
EMTI is a 501(c)(3) non-profit organization.